This pumpkin has three unique roles to play throughout the show. weird. traditional. and funny. It has a built-in projector and speaker that enables it to tell fascinating stories and popular jokes that will surely entertain your visitors. Other than that. this pumpkin can sing too. It plays different songs that will keep anyone in a good mood.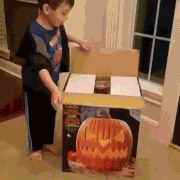 He sounds so real and entertaining. it feels like bringing a pumpkin to life. Serves as your daily music provider and friend. Totally worth your money.
This is the animated jack o' lantern that entertains guests and trick-or-treaters with songs. jokes. and seasonal phrases.

It has three different characters themes spooky. traditional. and funny each with three songs and over 40 rib-ticklers and expressions.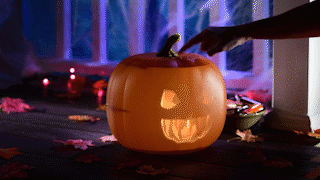 A built-in projector displays the animated faces on the pumpkin's front while an integrated speaker of pre-programmed audio supplies the entertainment.
With the volume and skip buttons. Can be set up on a tabletop. fireplace mantel. or outside under a covered porch.

Set Type: 1PC.2PCS.3PCS




Lantern Shape: Pumpkin

Occasion: Birthday Party
Occasion: Party
Occasion: HALLOWEEN
Occasion: Easter
AC adapter with 27"-long cord.
7" H x 9" Diameter. (2 lbs.)