Enjoy the glamorous light in the evening!
🌼 Super easy to put together
🌼 Weather-resistant; No wiring required; Energy saving
🌼 Make a beautiful pattern on the ground or table
🌼 Design for indoor or outdoor garden using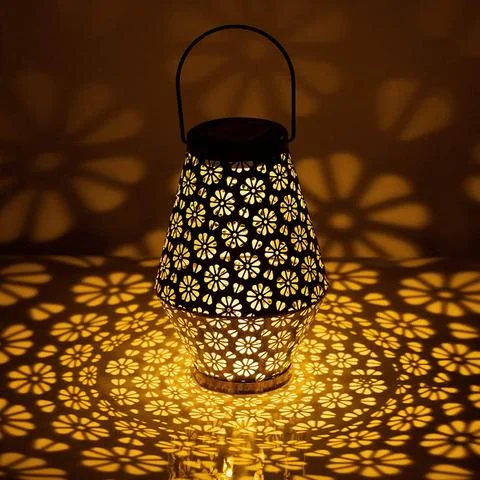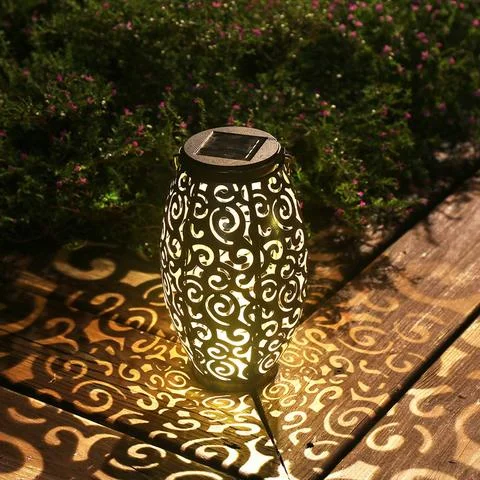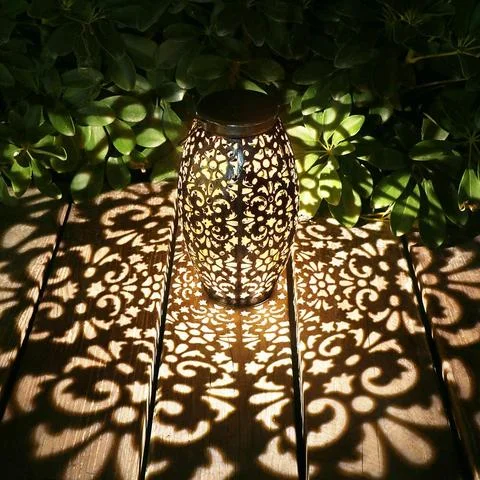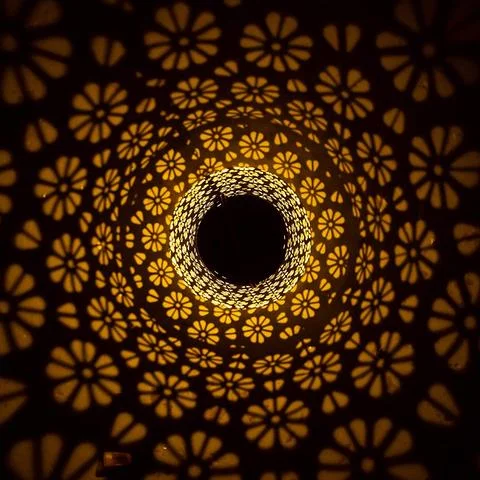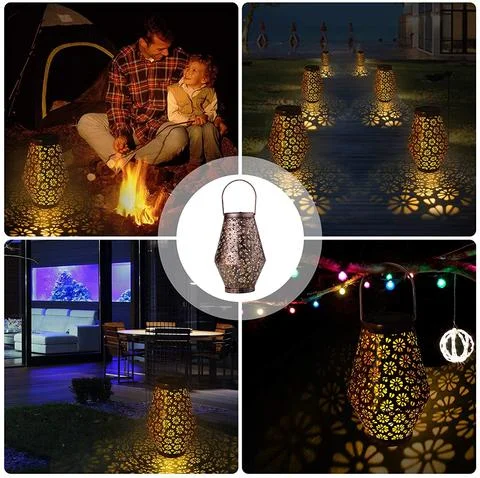 Happy Mother's Day to the greatest mom!
Welcome to buy eternal chrysanthemums lights to decorate your own garden or backyard.
Bring a kind of eternal vitality to your garden! Let you enjoy the glamorous light in the evening!
I bought it for my mom! They are not only beautiful, but My mom put them in his yard. and her neighbor can see these beautiful lights at night! Extremely pleased!
I think it is the best gift for Mother's Day!!!
--★★★★★
--michaelbryanstein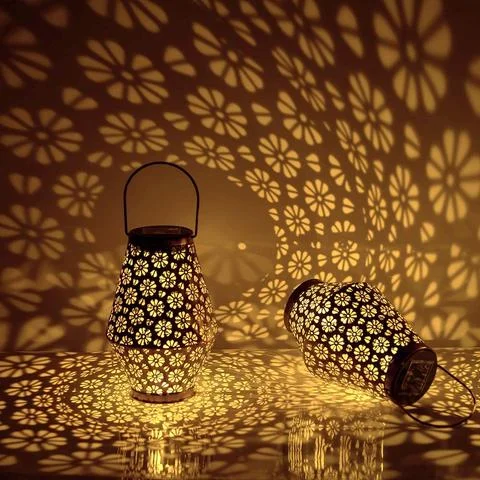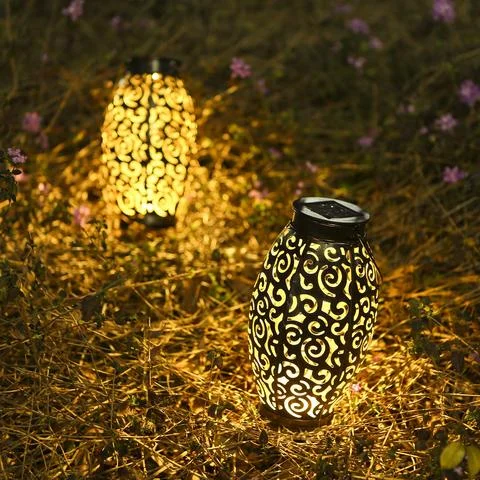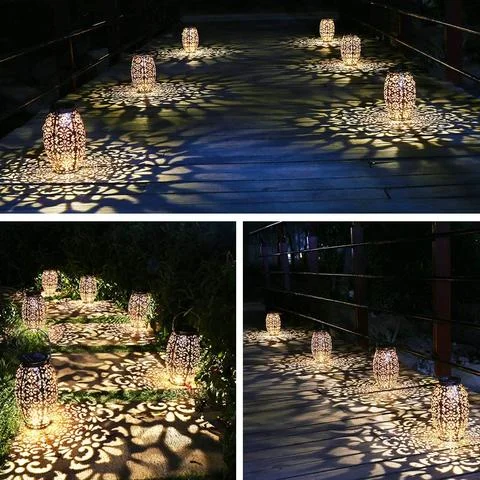 About this item
✅Solar Power✅Save Electricity✅Energy Saving
✅Weatherproof✅Green Energy✅Safety
✅Environmentally Friendly.✅High Brightness
Decorative solar garden lights
A unique and beautiful way to make light, is ideal for garden lighting, perfectly decorating your courtyard, lawn, table, porch, and all other outdoor (and indoor) pursuits that would benefit from beautiful lighting to create a wonderful and relaxed atmosphere.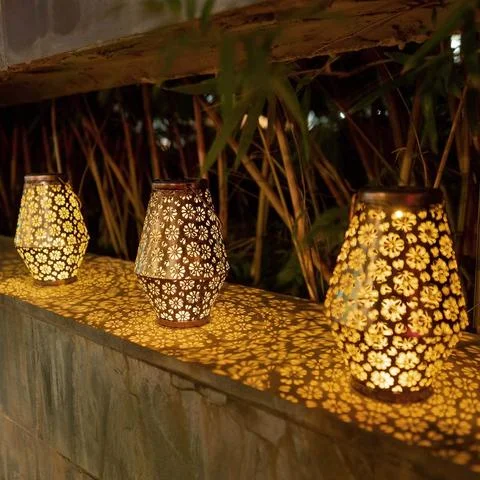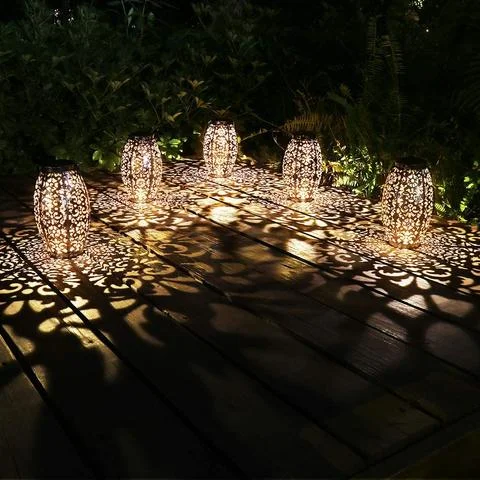 🌼

Light effect
- the lighting fits perfectly with the garden lanterns. In the night, its combination creates amazing shadow effects. As shown in the picture.

🌼Waterproof
- IP65 waterproof. It is suitable for outdoor and indoor use. However, as the solar panels on the garden lanterns are on the garden lanterns, we recommend that you bring them indoors when heavy rain arrives.

🌼Hand-made
. Each of the vintage garden lanterns is handmade. In addition to a beautiful oriental decoration in your living room, garden or balcony, this lantern is also a great item as a gift for your friends or family

🌼Solar-powered.
The power supply is powered by solar. You should first turn on the switch and place your garden lantern outside to pick up the sunshine.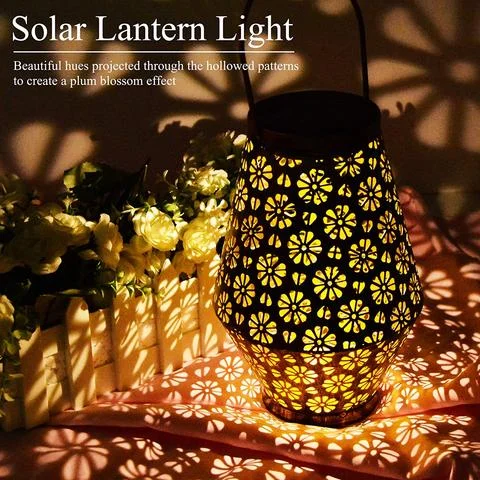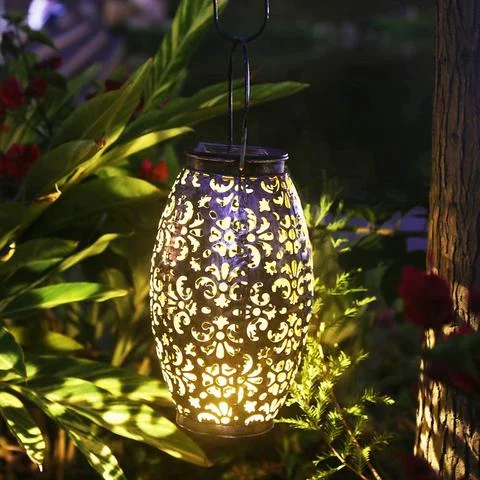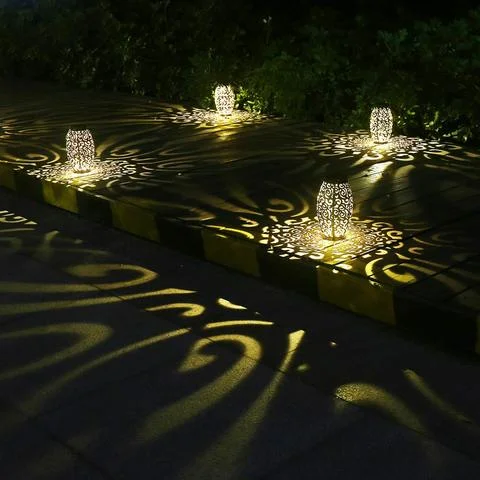 🔥Retro Design: These solar decorative lanterns are made of iron. It's a retro lantern that is lighting soft and fills the area with a quiet and elegant ambiance at night. Retro-looking style hanging solar lights can be a perfect decoration for your lawn, garden, patio, and balcony.

🔥Solar-powered: These decorative patio outdoor lanterns are solar-powered, which are convenient and saves your energy cost. Expose the solar panel to direct sunlight and allow it to be fully charged during the day. The light will be auto-turned on at night and working for up to 8 hours if you charging more than 6 hours. (make sure you turn the "ON" button before charging)

🔥Waterproof & Easy to Install: These hanging outdoor solar lights have durable construction waterproof functions. You can hang this light outdoor without worry about bad weather like rain or snow. No wires are needed, simply hang it wherever you want. Just ensure the panel exposes to the sun.

🔥Save energy: This lantern is solar-powered. You don't have to change the battery to use and will not pay for the expensive electricity changes like the plug-in lights. Just give it sufficient sunshine for more than 6 hours, it will light up for 8-10 hours at night. Just keep the power switch on "ON" all the time, the solar garden lights outdoor waterproof can keep it charging during the day and lighting automatically at dusk.

🔥Buy With Confidence: We are concerned about the satisfaction of customers. And we provide replace and refund service. If you have any questions about our solar lanterns, you can feel free to contact us. With such elegant solar lanterns, you can buy them with confidence.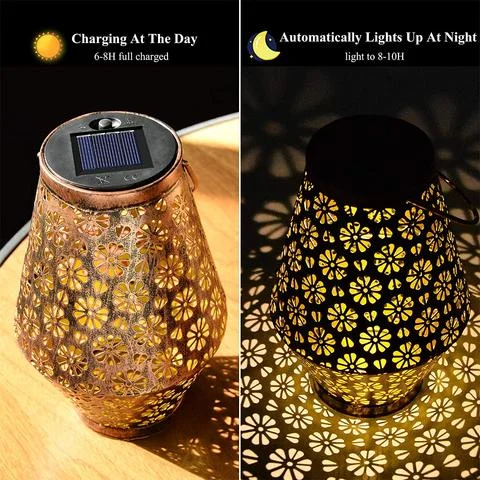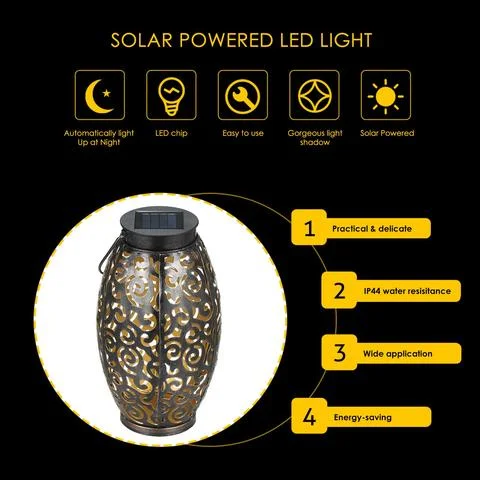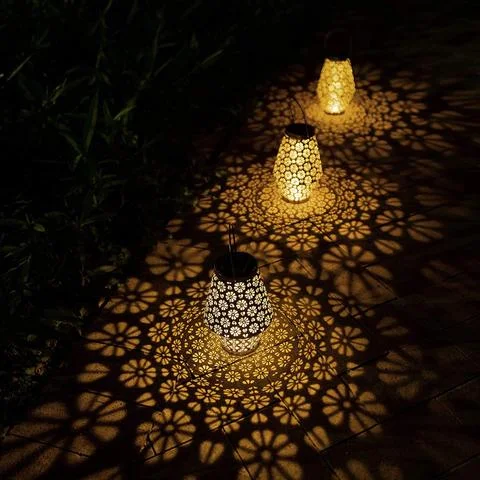 FEATURE:
Auto turn on/off;
Energy-saving; weather resistant; No wiring required; easy installation;
Batteries included;
Durable construction: Made of stainless steel;
Great Performance even on a rainy day.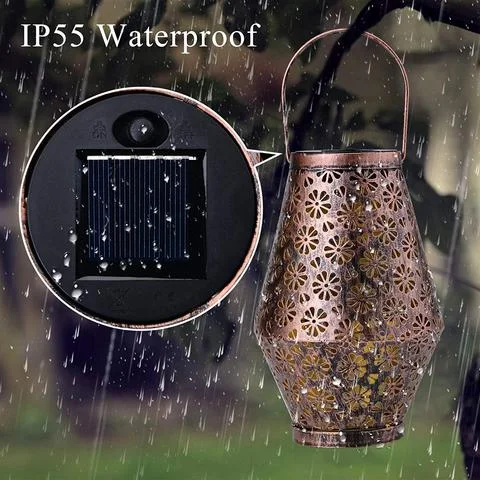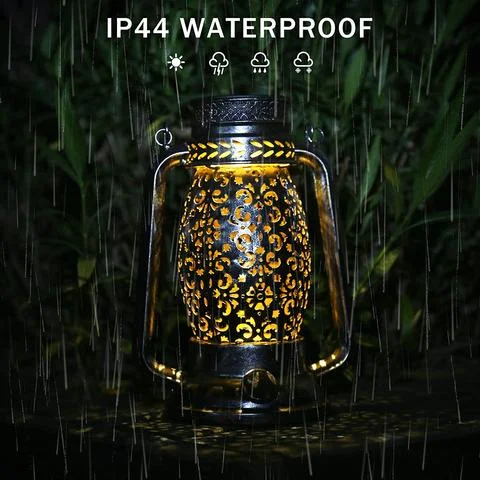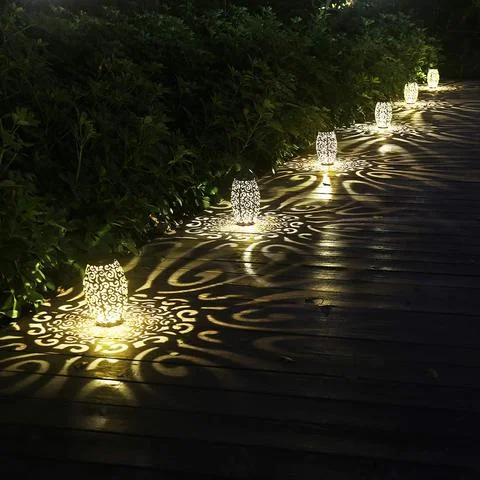 Specifications:
Dimensions: 3.15x7.78 x 5.5 inches
Light source type: LED
Material: Stainless Steel, Metal
Power source: Solar Powered
Charging Time: 6-8 hours (when getting enough sunlight)
Working Time: 8-10 hours
Protection Level: IP44
Lumen: 7 lumens
Lamp type: Light Emitting Diode
Bulb Type: 3000K Warm White LED
Storage Battery: Ni-MH 1.2V AA600mah battery
Package Included:1 x solar lantern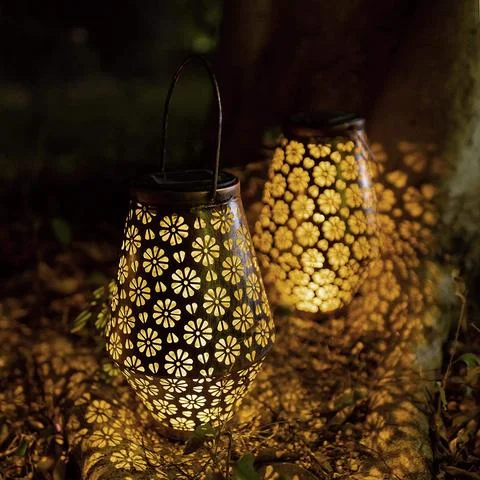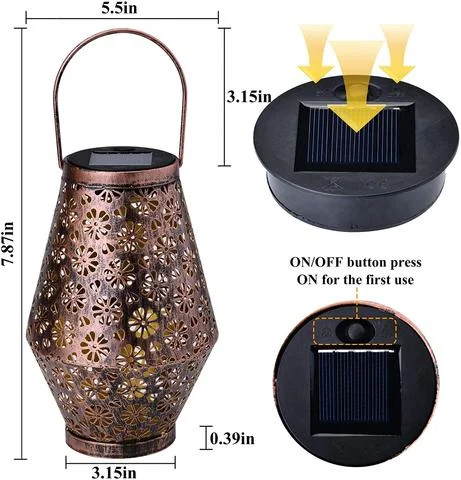 Warm tips:
1. Please do not soak this product into water.
2. Please put it in the sun to absorb the solar power when it is used for the first time.
3. Please keep its switch on the ON position all the time unless you want to stop it from working.
4. It is a hollowed-out design, please handle with care for preventing deformation.