Movie Nights Are Waiting...
Get the outdoor movie night experience! There is something truly magical about enjoying a film outdoors with either a few friends or an entire crowd of people. Whether it's family night, date night, or a neighborhood party, outdoor movies are the best way to enjoy the night. Get ready to make unforgettable memories with your loved ones with our Outdoor Projector Screen!
Create your own movie theater at home with our Portable Outdoor Movie Projector Screen. Perfect for educational purposes, classrooms, offices, conference rooms, presentations, weddings, birthdays, outdoor movies, home theater, and more.
Watch your favorite movie, TV series, and sports game on the big screen. Easy to install, it features convenient holes on the side that allow for easy hanging anywhere. Delivers a clean surface, optimized to show a crisp and clear projection. It's also highly portable, just fold it and put it inside your bag.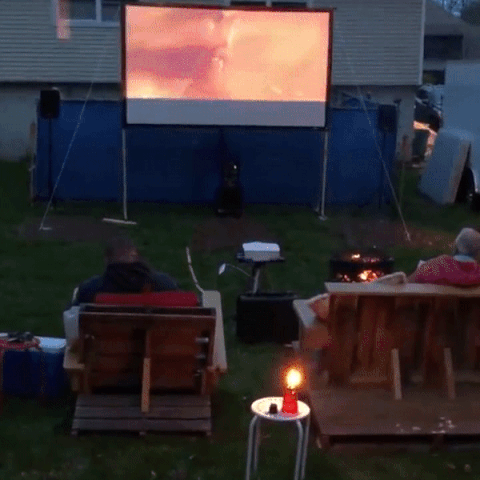 This Outdoor Big Screen offers 60-150 inches (5-12 feet) of viewing pleasure. And don't worry about sacrificing the high definition, this screen is made of oxford nylon reflective material for high-resolution imagery and enriched colors. Set up and take down is simple and easy, taking only a few minutes. The durable frame hook is freestanding and stable in a light summer breeze but four tie-down guy lines are included if extra stability is needed.
HOW TO SET UP YOUR OUTDOOR SCREEN
If there are wrinkles before installation, you can easily remove them with a low heat iron.
If you are installing it on a DIY structure (steel frame, PVC pipe frame, etc.), you can use ropes to stitch it around the frame. If you are installing it on a wall, tree, or other structures, the screen can be fastened easily with hooks, ropes, brackets, nails, or double-sided tape on the wall/mount. These are some great places to set it up:

Between two trees.
Side of the garage.
Side of your car (funny but actually makes setup really easy)
Side of a fence.
Hanging from the ceiling of open patio space.
Hanging from a pergola.

Power the projector and whatever source devices (smartphones, laptops, tablets, DVD players, game consoles, etc.) you are connecting. Most commonly, prepare the cables needed between the projector and the source. (Please see user manual for the projector's how-to-use guide)
To get the best-projected image, get the alignment of the image projected by the projector before the presentation. Do it with a reference or just using your keen eyes.
Adjust the projected image, focus and line up the center of the lens with the screen center and make sure it is leveled and perpendicular as possible.
Set up your speakers for a better viewing experience. Just add popcorn or your favorite BBQ and enjoy!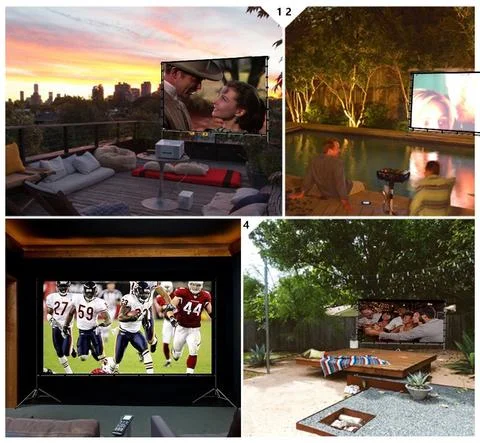 MOVIE SCREEN FEATURES
PORTABLE:

Compact single piece, lightweight, and foldable design. You can fold the screen in small size and put it in a backpack or suitcase.
VERSATILE SCREENINGS: Perfect for home theaters, outdoors, lawn, education, conference rooms, camping, etc.
HIGH-QUALITY:

Made of natural polyester fibers, the projection is clearer and brighter than most other projection screens, the projection screen is thicker and smoother, and does not wrinkle when folded/crushed.
EASY TO INSTALL:

Easily secure with hooks, ropes, brackets, nails, double-sided tape on the wall/bracket.
BEST PROJECTION EFFECT:

The screen surface is white and the light is When the ambient light can be adjusted, it shows the best projection effect. The light is evenly distributed and projected to each display area. The color is natural and lifelong, so it is not easy to fatigue.
WIDE ANGLE VIEWING: No odor on the surface of the screen, long-term use does not fade, not yellow, no deformation, the use of special photosensitive materials, to effectively prevent the scattering of light, wide viewing angle.
FULL HD MINI PROJECTOR
Ah, the magic of the movies. The action! The glamor! The LOLs! Such silver screen sorcery deserves to be played out in epic proportions, right? So it's time to level up

your viewing experience with our 1080P Full HD Mini Projector.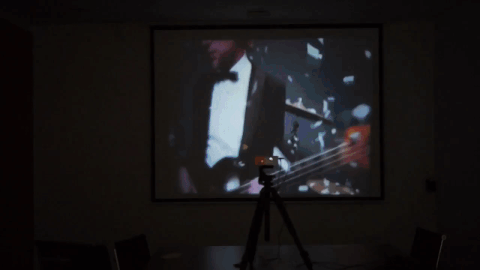 1080P Full HD Mini Projector is a

complete home entertainment system

that

connects to all your devices such as phones and laptops yet

is

compact

enough to fit perfectly in your bag. It is so easy and fun to watch your favorite films anytime, anywhere!
This 1080P Full HD Mini Projector supports iPhones, iPads, Android devices, laptops, PCs, game consoles, and more!
You can take it anywhere you go - cute design and super-sized, this item would be your best friend and "anti-bored-system" on every journey. You need to have it!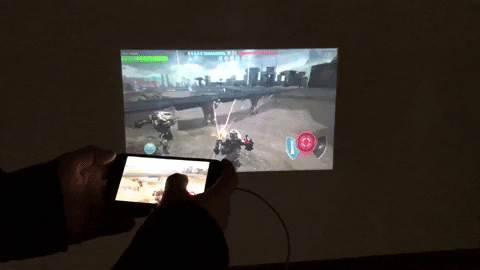 A PERSONAL MOVIE THEATRE EXPERIENCE
1080P Full HD Mini Projector is lightweight to be easily carried to any place you like, for which reason the projector has been fully upgraded to project at an area from 10'' to 60'' inches without loss in quality!
✔️Bright & Vibrant - 20 ANSI Lumens & 800:1 contrast that rival high-end LED TV
✔️True Theater Experience (Screen Ratio 4:3)
✔️Compact & Portable - 5 x 3.4 x 1.8 inches and weigh in at 6oz.
✔️Support up to 16.7M colors.
✔️Projection Distance - 0.8-2M (for best performance)
✔️NeverDieLamp - 30,000 hours of lamp life.
✔️Built-In Speaker (You can also use your external speaker)
✔️Works With Any Device - HDMI, USB, AV cord, 3.5mm jack, Micro SD, TF card connections.
✔️Can be powered from just a Powerbank. Perfect for camping!
Make today your last day having to hunch over a laptop screen when you can relax and watch anything with ease!
Imaging Technology: TFT LCD
Contrast:

800:1
Physical resolution:

320 x 240P
Maximum resolution support:

1920 x 1080P
Light source:

LED
Service life:

> 30000 hours
Focus mode:

manual
Projection distance:

1.2-3m
Projection size:

10-60"
Projection ratio:

1.6:1
Screen ratio:

4:3 / 16:9
Supported languages:

English/French, etc. (23 national languages)
Product size:

131 x 86 x 58mm.
Packaging Includes:
1 x Outdoor Projector Screen (stand not included)


stand No Projector