Doctors typically prescribe
nebulizers to kids and adults
with one of the following lung disorders:
👌🍃 THE PERFECT BREATHING TREATMENT MACHINE 👌🍃

With the PORTABLE NEBULIZER, protect your loved ones from respiratory problems. Is an excellent device to have at home to support more relaxed breathing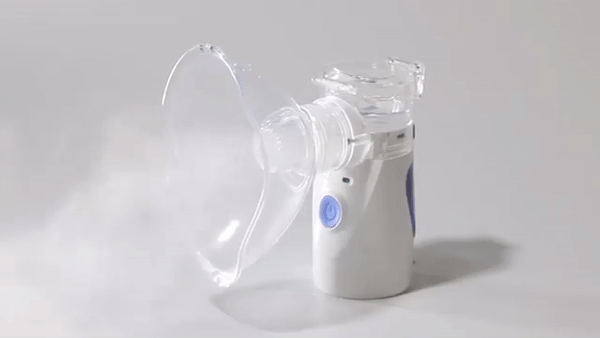 PORTABLE AND ERGONOMIC
Its small size and sturdy body make it perfect to take it anywhere, atomize wherever you need to, make sure you have the atomizing medicine and batteries before using it outside.



QUIET OPERATION
This small but powerful nebulizer can operate to its full capacity, remaining quiet during the whole nebulizing session, making it the optimal choice for those who need to nebulize outside their home constantly


A LOT OF FOG
Even though the NEBULIZER does produce a lot of fog, it is atomized by a fine compartment that ensures proper inhalation and perfect dosage. 😎



REDUCE MEDICATION WASTE
Professional Ultrasonic & Mesh Vaporizer, an exclusive technology that leaves very low medication Residue, minimizes medication waste under < 0.1ml and helps the dosage more accurate and more efficient.



🔋 BATTERIES OR USB MODE 🔋
The nebulizer has two operation modes, the first is using two AA batteries (Batteries sold separately) this will make it portable for you to use wherever you need to. The second operation mode is USB mode, in which you use the USB cable that comes with the nebulizer to power it.





WHY SHOULD YOU BUY THE PORTABLE NEBULIZER

Perfect for people of all ages, use it with the adult mask or with the children mask if a kid needs it. 🙏👶
This device is made with medical-grade materials that are safe and non-toxic 🌬⭐
Effective treatment 👌
Small & highly portable for carrying around 🎒👍🏻


SPECIFICATIONS
Model: MESH
power supply: 3V
power: 2W
size: 67*42*116 mm
weight: ≈94g
Maximum water temperature in the cup: ≤50 °C
Cup capacity: 10ml
Atomization rate: ≥0.25ml/min
Atomized median particle size: 4.0μm
Ambient temperature: 5~40℃
Working noise: ≤40dB
WHAT'S IN THE BOX? 📦
✅ 1 X ATOMIZER.
✅ 1 X ADULT FACE MASK.
✅ 1 X CHILDREN'S FACE MASK.
✅ 1 X ATOMIZED MOUTHPIECE.
✅ 1 X DUST COVER.
✅ 1 X USB POWER CORD.
✅ 1 X ENGLISH USER MANUAL.
✅ 1 X STORAGE BAG.
✅ 1 X COLOR BOX.