Outdoor beach mats you will not miss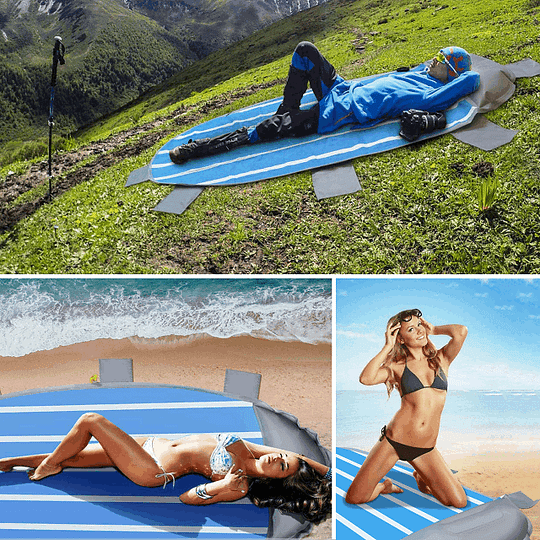 THICK CAMP SLEEPING PAD SUPPORT: This quality portable camping mat pad can give super sturdy and extremely comfortable support to fit your body's curves and different sleeping posture, double layer valve can blockade the air all night to resist leakage, holding weight 200kg without any problem(R-value 1.3).
Ultra-compact palm-size no more than a water bottle. No worrying about not having enough space in your backpack No backaches due to heavyweight very convenient to carry. PERFECT FOR A BACKPACKING SLEEPING PAD!
Economical & Easily sleeping mat for camping: this sleeping air pad with a pillow for sleeping! Inflating this camping sleeping bag pad is made a breeze! Just 10 to 15 breaths away your THICK, LARGE, SUPER COMFORTABLE air camping pads for sleeping are waiting to offer you deluxe relaxation!
High-quality ripstop 20D thickness is used only for the strongest camping equipment designed to last a lifetime in the most severe conditions. Clean packaging without any strange smell. The patch can also help to repair the hole in a critical situation.
This travel compact sleeping pad is perfect for men, women, teens, and kids. it offers a lifetime warranty for inflatable Camping Sleeping Mat pads to give the customer a satisfying purchase and absolutely RISK-FREE.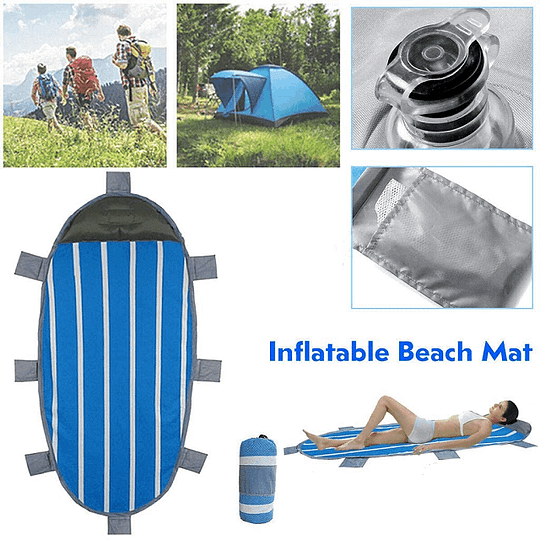 Description
Beach mat with inflatable pillow - Break the disadvantage of a regular beach mat having no pillow
Nylon inflatable pillow - super-strong tear-resistant nylon, keeps airtight for 48 hours
Fixed sandbags - 8 sandbags are secured to prevent wrinkles and keep them flat
Microfiber fabric - absorbs moisture and keeps the body dry
Bottom water pressure waterproof - super waterproof function
Sailor stripe - the overall use of sailor stripe design, high-end atmosphere
Small storage - expanded the size of 2 meters, the storage size of 25cm
New appearance - the appearance of the product comes from the turtle, the combination of life and nature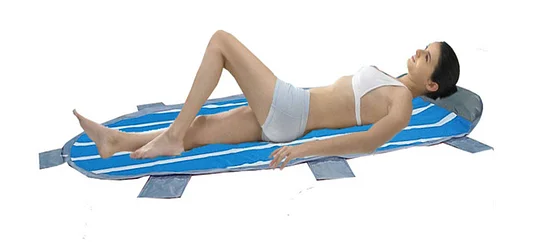 Nylon inflatable pillow, three puffs full! Surrounded by sandbags, the main body of the use of microfiber fabric
Breakthrough the shortcomings of the traditional beach mat single shape
Sailor stripe design scheme, in line with the European and American public aesthetic
Sandbag fixed, natural, and beautiful! The microfiber fabric feels exquisite!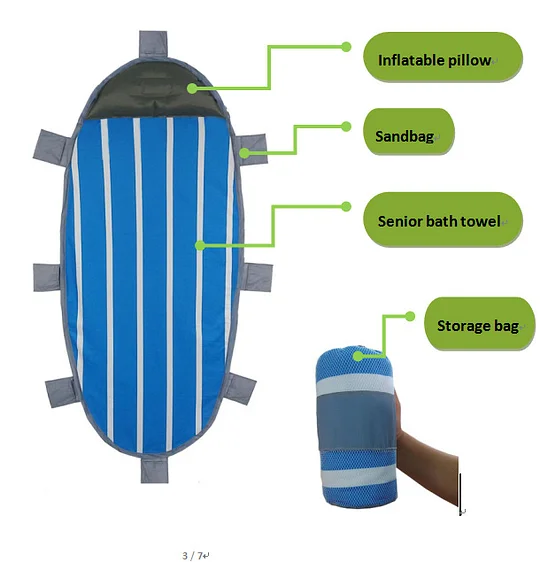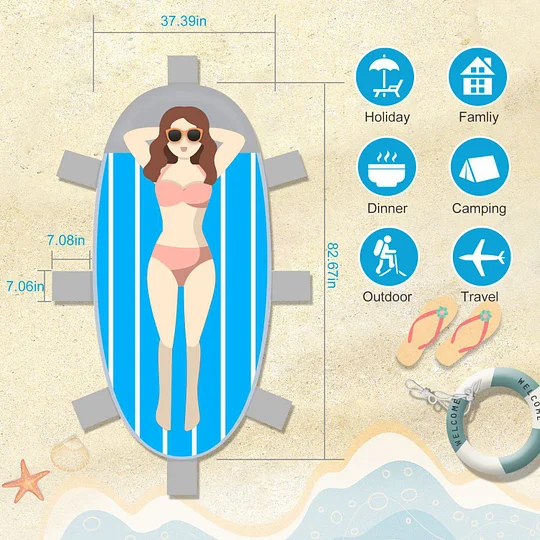 Specification
◆ The use of ultra-fine intensive bath towel fabric, sweat absorption, skin-friendly, soft and comfortable, safe and non-toxic, hair shedding, fading, and superior air permeability.
◆ It can be folded into a storage bag, is easy to carry, prevent bacteria from invading, is durable, is a good companion for travel and leisure.
◆ European and American standard design, environmental protection fabric, good performance, strong ductility, machine washing will not break.
◆ Inflatable pillow: Nylon composite material, charging and discharging one air nozzle!
◆ striped cloth;240g microfiber fabric, double oil hydraulic PU waterproof back
◆ Sandbag: silver-gray 190D super dense polyester
◆ Size: 23*12cm*12cm
◆ Weight: 500g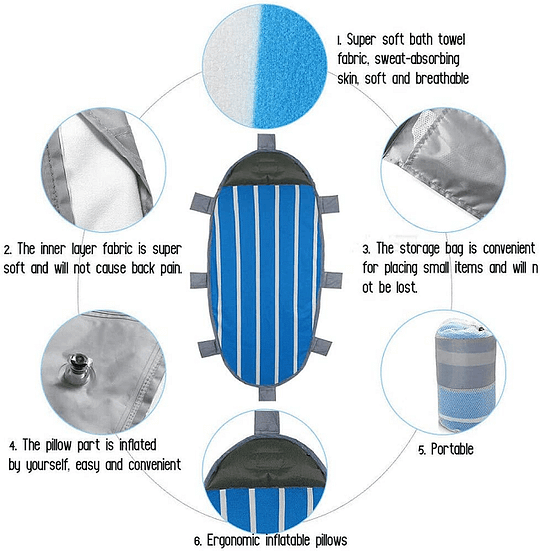 Package Included:
1 x Inflatable Beach Mat