The LED Lamp That Gives You Festive. Warm or Even Magical Moment! Make Your Halloween Haunted Success!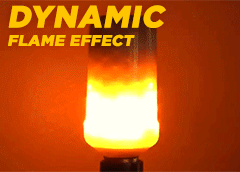 This flameless lamp light up your life without any safety concern The flame effect is just stimulated by advanced light projection. Perfect to replace traditional gas lantern. ex retrofit oil lamp or hurricane lamp!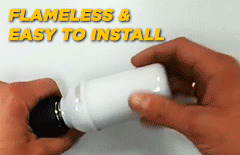 The flame is dynamically moving perfectly generate the realistic illusion of nature fire. We offer several colors to fit different occasions Swarmyellow. magical blue and mysterious green flame!
Watch as the orientation of the simulated flame effect changes when you flip the bulbs it always burns upright just like an actual flame with gravity sensing!
FEATURES:
Ready for Halloween

Creates festive atmosphere with warm yellow. magical blue and mysterious green flame!
Realistic Flame Effect

The flame effect with bright flame simulating colors is dynamically moving to perfectly generate the illusion of natural fire.

4 Lighting Modes

Include flame emulation. breathing. normal lighting and gravity lighting mode. Easy to switch between modes by pressing the power switch for 2 seconds.
Auto Rotation

Able to inversely place the lamp as the flame flows up and down with accurate gravity sensing.
Ideal for Any Festival/ Party

Create romantic. a warm and relaxing moment for Christmas. anniversary. birthday party and any occasion.
Flameless & Safe

The flame effect is just fire simulating projection without a real flame. Excellent heat dissipation ensures safety.
Energy-saving & Durable
LED technology reduces power consumption and can be used for>50.000 hours.
Contain no harmful substances. UV or infrared radiation.
Suitable for indoor and outdoor use.
SPECIFICATIONS:
Shell Material: PC (Resistance of 105)

Size: 6.5 x 13.5cm

Color: Yellow. Blue. Green

Lifespan: >50.000 hours

Luminous Intensity: 650 lumens

Light Source: SMD 2835 99pcs Epistar Chips
PACKAGE INCLUDES: