A hanging creepy mini skeleton pirate that's been locked into a prison cage. It's a pirate that refuses to give up the ghost!
This scary pirate wiggles around and lunges forward while trying to break out of its jail cell.

The scary red eyes flash as it screams for help when activated.

This indoor Halloween decoration is easy to use.
Install 3 AA batteries turn on the switch. (Not include the battery)
Just touch it or hear it sound bigger issue immediately super scary ghost sounds. luminous eyes. opened the cage head will extend a hand to.
Yells out: Let Me Out / Screaming / Help / Get Me Out Of Here / Didn't Your Momma Tell You It's Rude To Stare / Innocent
This unique prop is perfect for placement in entryways. on doors. in haunted houses. as it is sure to add some extra fright to a trick-or-treaters night!

Picture all of your visitors screaming and running for the door when they run into a spooky animated zombie or a freaky Skeleton!

Halloween is so much fun and choosing the right decor is merely the beginning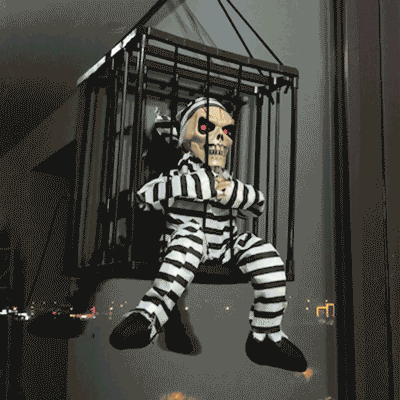 UNIQUE HALLOWEEN DECOR
Scary hanging ghost is a perfect for Halloween party. Wonderful Halloween decorations in any holiday. A hanging super creepy mini skeleton ghost zombie prisoner that's been locked into a prison cage. that's trying to escape while screaming "Let ME OUT!". as he refuses to give up the ghost! Scary Halloween decoration.
USING TIPS
Turn on the switch(on the back). when hanging this Halloween props decoration. the scary prison cage will wiggle around. while the prisoner's head lunges forward and the arms move out like he's bending the prison bars and trying to escape from his jail cell. Its animated arm movement is sound and touches activated. This prisoner's creepy red eyes and flash while he repetitively screams out "Help Me"! It is a very realistic Halloween animated props.