Projector Light Portable Air Humidifier
A humidifier with a unique design, not only a usual humidifier but also the night light and the star projector for kids room. It's a 3 in 1 double spray humidifier. It has two spray ports with Large Mist, the spray amount can go up to 50-80 ml when it's working. It can help regulate the dry air, moisturize your skin, relieve nasal congestion & purify the air.
Cool Mist Humidifiers For Bedroom - Starry Sky & Sea World Optional Films.
Project beautiful stars, moons, galaxies, rockets, and various ocean animal like jellyfish, dolphins, clownfish, ray fish, starfish, algae. etc...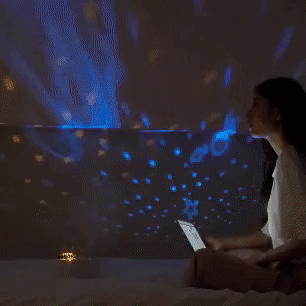 Mist humidifier also as a night light is comfort you during the dark for bedroom. The humidifier has 6 light modes, you can press the third time to turn on the night light.
The cool humidifier has a card position to buckle, it is not easy to open the lid, and it can be easily moved without wetting your desk, floor, etc. Recommend to clean the tank once a week for a better experience.
It creates a wonderful and starry atmosphere that helps children stimulate their curiosity, imagination, creativity. Also, Perfects for indoor decoration as an ocean wave projector, romantic mood light, night lamp, and bedside lamp...
Product Description
Fine spray can eliminate static electricity, reduce dust and smoke pollution in the air, and play a protective role on the eyes and skin. In particular, it has a smoothing effect on air-conditioned rooms and heating rooms.

Six fantastic Night light rotating projection modes surprise you with a unique experience.

The blue light shines on the display, press the light button for the first time to turn on the blue light.

Press the second time to turn on the yellow light.

Press the third time to turn on the white light.

Press the fourth time and the monochromatic gradient changes to a two-color gradient, then to a three-color gradient, and so on.

Press the fifth time and the two-color gradient loops in turn.

Press the sixth time to turn on all three lights.

Press the seventh time to shut the lights.